QUICK TAPE
®

Support Straps
Meet Your Foot's New Best Friend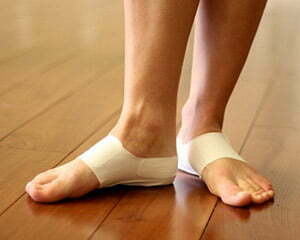 The American-made QUICK TAPE® foot support strap is a thin, peel and stick foot tape made out of hypoallergenic, latex-free adhesive fabric. Developed to help those suffering from plantar fasciitis, QUICK TAPE® support straps are also a safe and effective method of managing foot discomfort caused by:
The strap may be worn bare foot or with any type of footwear, including socks, shoes, sandals, braces, and orthotics. QUICK TAPE® support straps are quick, convenient and effective, replacing the tedious task of foot taping.
How Does it Work?
QUICK TAPE®support straps custom fit to the shape of either foot, supporting the arch while keeping the ball of the foot and the heel together during the actions of walking, running, and jumping. This is what supports the foot, easing tension off the fascia and arch, relieving pain instantly.
By aligning and securing the foot in the proper place, QUICK TAPE® support straps can significantly or completely reduce foot pain, in addition to alleviating stress on the knees and hips.
QUICK TAPE® support straps also help prevent injury to the feet when participating in activities such as marathons, sports, heavy lifting, or prolonged periods of standing. The straps are so comfortable they can be worn for days, even while sleeping, showering, working, and exercising—they manage foot pain while you continue daily activities!
What's in the QUICK TAPE® Package?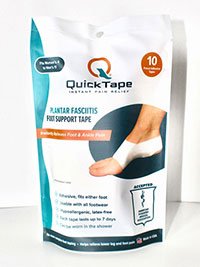 Choose from a package of 3, 10, or 15 pre-cut straps with step-by-step instructions. Each strap lasts 3 to 7 days on average, depending on usage, humidity, and body type. QUICK TAPE® support straps should be worn 24/7 for 6 to 8 weeks or until pain resides.
QUICK TAPE® support straps come in two sizes:
STANDARD: fits a Women's US size 4 to Men's US size 11, or foot circumference of 7.5" to 10"
LARGE: fits a  Men's US size 12 and up, or a circumference of 10" to 11.5"
To be certain that you are ordering the correct size, please measure the circumference of your bare forefoot about 1" below where your ankle connects to the top of your foot.
As your QUICK TAPE® support strap starts working to help align your foot, it may feel as if it is getting looser. Though it may feel strange, this is perfectly normal, and the strap is still effectively supporting your foot.