Frequently Asked Questions:
Can my child wear it?

Yes, although you may have to trim it down to fit the small foot. We are actually working on a child's size, but that may be in the distant future.
---
Q. After wearing the Foot Support Strap for a while, it feels like it loosens up. Is it still working?

Yes. The foot will adapt and align to the supported shape, therefore it will feel very comfortable. The Foot Support Strap will still be working.
---
Q. Can I apply the Foot Support Strap myself?

Absolutely! Just follow the instructions that come with each package or view our online instructional video. You can print the instructions easily by clicking on the "Easy Print Directions" button to the left side of each page. The important part is to rub the entire strap thoroughly to activate the adhesive.
---
Q. Can I go barefoot with the Foot Support Strap?

Yes, but it won't give you protection from sharp objects that you may step on.
---
Q. Can I hurt myself if I apply it incorrectly?

It's difficult to mess yourself up with the Foot Support Strap. It may not work properly to help your foot pain if not applied correctly. Please follow the instructions that come with your package, watch our instructional video or print the instructions from our website at supportthefoot.com. Rub entire strap thoroughly after application to activate the adhesive.
---
Q. Can I wear it in the shower?

Yes, the Foot Support Strap is made with cotton and will dry quickly. We recommend using a towel to pat it dry, then let it air dry while you're getting dressed.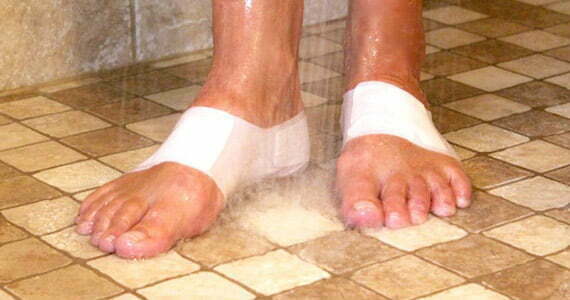 ---
Q. Can I wear it with my socks and shoes?

You bet.
---
Q. Can I wear the Foot Support Strap even if I don't have plantar fasciitis?

Absolutely! When applied correctly, The Foot Support Strap creates a natural arch for your foot. It aligns the foot allowing bones, ligaments and tendons to work together properly, therefore relieving pain and inflammation. We have received many reports of the Foot Support Straps relieving pain caused by bunions, neuromas, arthritis, shin splints, sprained ankles, achilles tendonitis, navicular issues, post surgeries/injuries and many more. It is also a great preventative device for running marathons, basketball games, football games, soccer and other activities that are hard on the feet.
---
Q. Can I wear the Foot Support Strap in the hot tub or for swimming?

Although it has shown stability during hot tubs and swimming, we don't recommend long periods of time in the water as it will decrease the useful life of the strap and possibly cause it to come off your foot before you're ready to change it.
---
Q. Can I wear the Foot Support Strap under a brace?

Yes.
---
Q. Can I wear the Foot Support Strap with my orthotics or compression socks?

Yes.
---
Q. Do I need to shave before applying it?

Generally, short hair can help to keep the strap in place. Longer hair may be painful when removing the foot support strap. If shaving is needed, we recommend trimming hair to about 1/8".
---
Q. Does the Foot Support Strap come in a larger size?

Yes, it comes in a Men's Size 12 and larger. If you have a men's 11 or 11.5 foot and your foot runs wide, you should probably use the size large so that there is ample overlap to hold the strap in place more securely.
---
Q. Does the Foot Support Strap come in any other colors?

Not yet, but we're working on a skin colored strap for wearing with sandals and flip flops.
---
Q. How do I remove the Foot Support Strap and adhesive residue from my foot?

Remove the Foot Support Strap by slowly peeling off the tabs; keeping the tabs as close to the skin as possible. Use rubbing alcohol on a cotton swab to remove any leftover adhesive. To remove stubborn adhesive residue, soak your foot in warm water and gently rub area with a pumice stone.
---
Q. How long will the Foot Support Strap stay on my foot?

Because there are different body and skin types, under normal use, we can only say that it will last about 2 to 5 days, but we typically recommend that you do not wear it for more than 5 or 6 days. My family members have worn theirs for over a week, and eeuuww, it gets stinky! LOL.
---
Q. I wear a Men's size 11 shoe. Which size Foot Support Strap should I order?

If you have normal or narrow feet, you should be fine with the standard size Foot Support Strap. If you have wide feet or high arches, we would recommend the size large Foot Support Strap so that it will have enough overlap to anchor it in place.
---
Q. Is it normal for the Foot Support Strap to feel really tight on my foot?

Yes, it is normal for the Foot Strap to feel very tight after you first apply it. The tightness feeling will go away after a few minutes to an hour after walking on it. This is because your foot will conform to how the Foot Strap is aligning your foot. Even though it will feel "looser", it will still be supporting your foot in the aligned position.
---
Q. Should I wear it before sports or exercise?

Definitely. It's a good preventative measure to wear the Foot Support Strap before heavy use on your foot. It's great for extra stability, support and alignment.
---
Will the Foot Support Straps help pain from Accessory Navicular Syndrome?

We have had several customers tell us that Quick Tape Foot Support Straps successfully relieve pain caused from Accessory Navicular Syndrome. This is due to the Strap aligning the foot so that all bones, tendons and ligaments work better together instead of causing pain from rubbing on each other.
---
Page 1 of 1